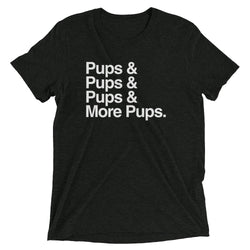 Never Enough Pups Tee
Specifically designed to keep you cool and comfortable while hugging every single dog that you pass on the sidewalk while ignoring the owner, this soft tri-blend tee is perfect for all your ear-scratching, snout-kissing adventures.

Made of super fancy Try-Blend fabric. You know that "my favorite t-shirt" softness? That's this.
YOU'D LOOK HOT IN THESE, TOO