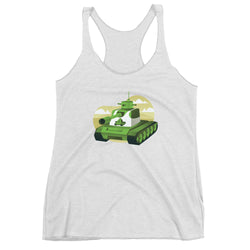 Recursion Racerback
Blow the minds of those around you, as they fall deeper and deeper into your spell of the infinite.

A tank top. With a tank on it. The tank is also wearing a tank top. On the tank's tank top? A tank. Is that tank wearing a tanktop? Look closer. NOPE.

Made of super fancy Try-Blend fabric. You know that "my favorite t-shirt" softness? That's this.
YOU'D LOOK HOT IN THESE, TOO