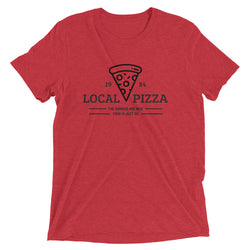 Mom and Pop Shop Tee
You know, one of those places where you can smell the pizza as soon as you walk in and they have the little shakers full of pizza pepper and the thin crappy napkins? What *is* pizza pepper, anyway? Is it an actual pepper, or a mix, or what? I'm gonna look this up.

Ok I'm back. Wow, so it's just a species of pepper that goes well on pizza. Cool.

Made of super fancy Try-Blend fabric. You know that "my favorite t-shirt" softness? That's this.
YOU'D LOOK HOT IN THESE, TOO