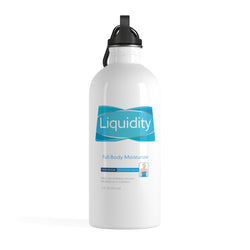 Liquidity Moisturizer Bottle
Liquidity is the first moisturizer that works from the inside of your body. What other brands forget is that the human body is 99% insides, so they neglect to care for the vast majority of your beautiful human form.

Simply fill your Liquidity bottle with your beverage of choice, and pour that beverage directly into your mouth. Your Liquidity bottle is specially designed to deliver your beverage directly to your stomach where it will instantly begin the moisturizing process.

.: Lightweight stainless steel

.: 14 oz

.: Comes with open and close carabiner and key chain ring

YOU'D LOOK HOT IN THESE, TOO