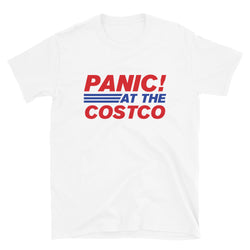 Mandatory Quarantee
You've got toilet paper. You've got soap. You've got enough movies and TV shows to last you several lifetimes. But how do you plan on getting a hot quarantine partner without some stylish new threads? A global pandemic is no excuse not to look your best.

Also, please wash your hands a lot. Try Hard loves you.
Measurements are in inches, unless otherwise noted.
(Measure chest 1" below armpit straight across)
| | | | | | | |
| --- | --- | --- | --- | --- | --- | --- |
| (inches): | S | M | L | XL | 2XL | 3XL |
| Width | 19 | 20 | 22 | 24 | 26 | 28 |
| Length | 28 | 29 | 30 | 31 | 32 | 33 |
| Sleeve | 7.5 | 7.8 | 8.2 | 8.6 | 9 | 9.5 |
YOU'D LOOK HOT IN THESE, TOO